With Vivideo, a treasure of educational and entertainment videos is in your hands!
This application is a multimedia service for watching technology, sports, educational and entertainment videos, etc.
Videos in the field of software training, photography training, technology, and more are provided in the Vivideo application. Videos which can't be easily found in the form of a collection set.
Various part of this application (Application Guide)
After installing the application, enter your phone number and wait to receive a password! After entering this password, you will have an account. Now enter the world of video tutorials and enjoy it!
You can also watch videos of Vivideo as a guest. After log in to the app, you will see several sections at the bottom of the page:

Home
Excerpts from the app's videos can be viewed in the Home section. You can see the special offer, the most visited and the latest videos in this section.

Categories
In this section, the videos are organized and you can see the various categories in the app.
Education, technology, entertainment, sports, and so on are among the categories available in the Vivideo application.
You can watch free services, but you have to pay a small fee to watch premium videos.

Search
In the Search box, by entering a part of the video name, you can find it! The Vivideo search engine does its job best.

Account settings
You can change the password, specify the name and view the last seen videos in the account section! You can also read the description of the application in the About Us section. User privacy Policy and the rules are provided in this section.
Simple user interface
Working with Vivideo is very simple! Log in to the app and watch your videos by just a few touches.
Video sharing
You can share the video with anyone you want
Share your points and comments
For each video, you can rate it and share your views with others.
Mark a favorite video
If you like a video and you want to watch it again or watch the rest of the video in another time, you can mark the video and access it again in the account section.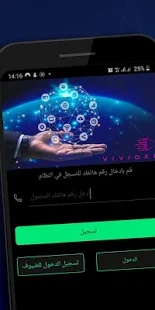 Vivideo is an entertainment and educational application that provides users with various educational, sports, technology, and more videos. To speed up the growing process of this program, send your comments and suggestions to
This email address is being protected from spambots. You need JavaScript enabled to view it.
.